USE OF THE LESBIAN FLAG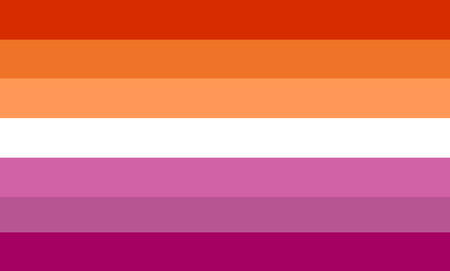 The lesbian flag I, Emily Gwen, designed (pictured above) is FREE for both personal and commercial use. You do not need to seek permission for any use of the flag. It belongs, first and foremost, to the lesbian community. I will never require payment or permission for anybody to use it.

I strongly encourage artists, especially lesbian artists, to use the flag and its colour scheme within their art if they want to. I also strongly encourage artists, especially lesbian artists, to sell art, crafts, and merchandise based on or using the lesbian flag if they wish.

Businesses, especially small businesses, should not feel any hesitation in using the lesbian flag design. HOWEVER, I strongly encourage non-lesbian and non-LGBT businesses to make a donation to a charity that supports members of the community. I will list some below.

The only commercial use of the lesbian flag that I dislike - though I cannot and will not prevent you from doing so - is posting the image of the lesbian flag, unedited, on the websites Redbubble.com, Society6.com, and Threadless.com. This is because I myself sell products with just the plain lesbian flag on them and as a young, unemployed lesbian, I need all the financial help I can get. HOWEVER, using the lesbian flag in artwork and various designs is not included in this. That's awesome, and I encourage it.

Furthermore, if you have used the design in any artwork or product, I would love to see it! Tag me in it (I will link my social media below) or send me a link to your online store via email (I will include this below too).

IMPORTANT REQUEST FOR ARTISTS
Please be respectful when using the flag- not just to me, but to the whole lesbian community. Please do NOT include the flag in any content that sexualises minors or is discriminatory or offensive to any race, sexual orientation, or gender. The flag was created to be inclusive and supportive of ALL lesbians. This includes trans and nonbinary lesbians, including lesbians who use pronouns other than she/her. Please make sure that if you use the lesbian flag, you are not using it in a way that goes against the core values around which it was created.
Below are some charities and organisations you may consider supporting if you or your business are profiting from use of the lesbian flag design but are not a lesbian or a member of the LGBT community. These are all Australian but you may like to donate within your local community.